Code: ADE300
Duur in dagen: 5
Cursus Object Oriented Analysis en Design
15-07 t/m 19-07-2019
16-09 t/m 20-09-2019
18-11 t/m 22-11-2019
Uw startdatum
Doelgroep Cursus Object Oriented Analysis en Design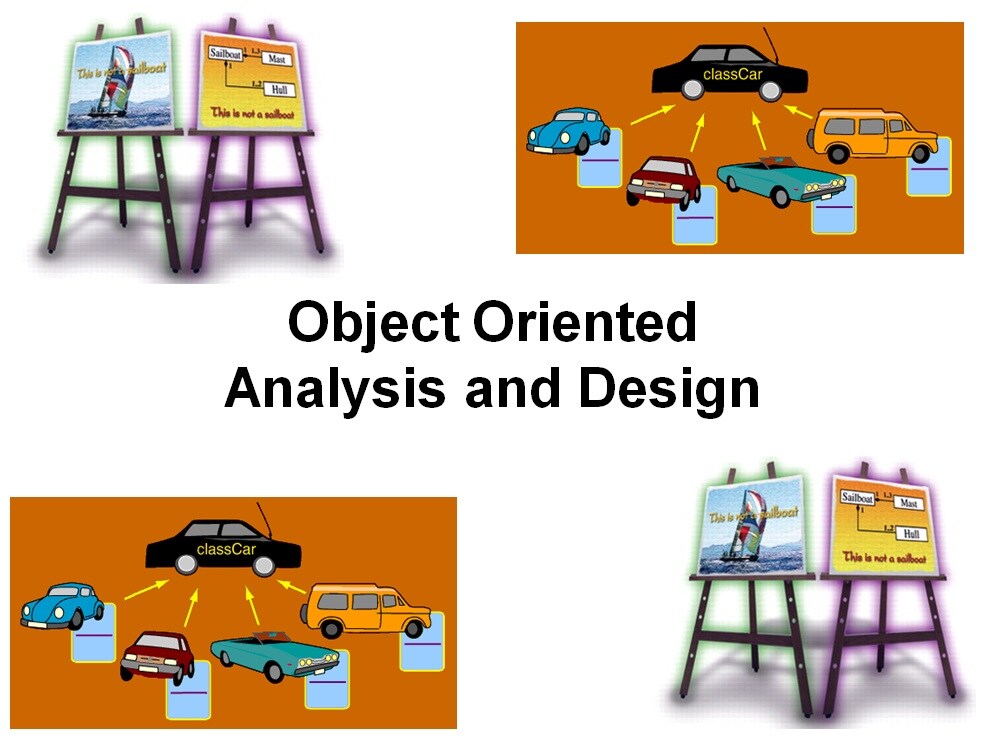 Deze cursus is bedoeld voor developers en architecten die object georiënteerde analyse en design technieken en UML willen leren.
Voorkennis Object Oriented Analysis en Design
Om aan deze cursus deel te kunnen nemen is kennis van de basis principes van object oriëntatie en ervaring in object-georiënteerde software ontwikkeling wenselijk.
Uitvoering Training Object Oriented Analysis en Design
De stof wordt behandeld aan de hand van presentatie slides. Tijdens de cursus worden oefeningen gedaan met twee case studies die van requirements tot ontwerp worden uitgewerkt. Een modern UML tool wordt gebruikt om UML diagrammen te tekenen. De cursustijden zijn van 9.30 tot 16.30.
Certificering Object Oriented Analysis and Design
De deelnemers krijgen na het goed doorlopen van de cursus een officieel certificaat Object Oriented Analysis and Design.
Inhoud Cursus Object Oriented Analysis en Design
In deze cursus leren de deelnemers de object georiënteerde manier van denken en de technieken voor het analyseren, ontwerpen en modelleren van een software systeem als een verzameling samenwerkende objecten. De UML taal loopt als een rode draad door de cursus heen. Na een introductie en overzicht van de belangrijkste object georiënteerde concepten en principes, wordt de moderne methodiek van iteratieve en incrementele systeem ontwikkeling besproken. Vervolgens wordt aandacht besteed aan hoe de requirements van een systeem kunnen worden geanalyseerd en hoe de typische vormen van systeem gebruik kunnen worden beschreven met use cases. Na een overzicht van UML wordt besproken hoe een domain model kan worden opgesteld, hoe de verschillende objecten kunnen worden onderscheiden met hun respectievelijke attributen en relaties en welke informatie ze uitwisselen. Er wordt aandacht besteed aan hoe verantwoordelijkheden kunnen worden toegewezen aan objecten en hoe deze door interactie modellering vertaald en gevisualiseerd kunnen worden met sequence en collaboration diagrammen en state charts. De verschillende design patterns die in dit proces kunnen worden gebruikt worden ook besproken. En ook de vertaling van het domain analysis model naar een design class model is onderdeel van de cursus inclusief het ontwerp van een logische architectuur met packages en subsystems en de mapping naar code. De cursus gaat ook in op architectural design waarbij component en deployment diagrammen worden gebruikt. Tot slot wordt het belang van design patterns voor het implementeren van standaard oplossingen benadrukt.
Module 1 : Software Process

Module 2 : Requirements Analysis

Module 3 : Use Case Modeling

Software Development Process
Software Development Phases
Good Software Characteristics
Building Good Software
Capability Maturity Model
Iterative Development
Incremental Development
Requirements Capturing
Requirements Analysis Process
System Design
Test Driven Development
Waterfall Model
Evolutionary Development
Software Errors
Unified Process
UP Phases
OO Analysis and Design
Understanding Requirements
Vision Documents
Requirement Analysis Activities
Requirement Types
Functional Requirements
Non-Functional Requirements
Requirements Determination
Requirements Classification
Requirements Specification
Conflicting Requirements
Requirements Risks
The glossary
Use Cases
Actors
Use Case Modeling
Identifying Actors
System Context Diagram
Identifying Use Cases
Use Case Diagram
Use Case Modeling Steps
High Level Use Cases
Expanded Use Case
Use Case Template
Branching with If
Alternative Paths
Scenarios
Structuring Use Case Model
Generalizations
include and extends

Module 4 : UML Overview

Module 5 : Domain Modeling

Module 6 : Use Case Realization

What is UML?
UML History
UML Design Goals
UML Diagrams
UML Views
Use Case View
Logical View
Component View
Deployment View
Notes and Adornments
Stereotypes
Tagged Values
Contraints
System Sequence Diagrams
Why Domain Modeling?
Domain Model
Conceptual Classes
Noun Identification
Physical and Conceptual Objects
Filter Rules
Similar Conceptual Classes
Types of Classes
Domain Analysis Classes
UML Notation and Classes
Lowering Representational Gap
Finding Associations
Roles in Associations
Multiplicity and Associations
Generalization and Specialization
Aggregation and Composition
Finding Attributes
Association Classes
Realizing Requirements
System Behavior
Input Events and Operations
Sequence of Events
Event Trace Diagram
System Sequence Diagrams
Scenario with Events
Derivation from Use Case
Naming System Operations
Recording System Operations
Contract Sections
Postconditions
Responsibility Driven Design
Class Responsibilites
Class Collaborations
Interaction Diagrams
Sequence Diagrams
Grasps Design Patterns

Module 7 : Statecharts

Module 8 : Design Model

Module 9 : Architectural Design

State Machine Concepts
State Machine Diagram
Diagram Elements
State Machine Usage
Event Driven Behavior
State Machines and Objects
Object Behavior
Objects and Threads
Passive Objects
Active Objects
Entry and Exit Actions
Order of Actions
Internal Transitions
State Activities
Guards
History States
Transition to Design
From Requirements to Design
Class Design Diagrams
The Design Model
Design Aspects
Design Model Characteristics
Mapping to Code
Packages
Package Design
Packaging Guidelines
Data Access Class Packages
Subsystems
System Partitioning
Large Scale Element Collaboration
Consider Layering
Layers and Packages
Simple Logical Architecture
Consider Coordination Layer
Web Application Architecture
Consider MVC Architecture
Package Dependencies
Ordering Work
Load Test Early
Clustering
Vertical Scaling
Horizontal Scaling
Physical Architecture

Module 10 : Applying Design Patterns

What are Patterns?
Creational Patterns
Behavioral Patterns
Structural Patterns
Architectural Patterns
Singleton
Abstract Factory
Factory Method
Reducing Dependencies
Observer Pattern
Adapter Pattern
FaÇade pattern
Proxy Pattern