Code: SPR400
Duur in dagen: 2
Cursus Requirements met Use Cases
11-07 t/m 12-07-2019
12-09 t/m 13-09-2019
14-11 t/m 15-11-2019
Uw startdatum
Doelgroep Requirements Cursus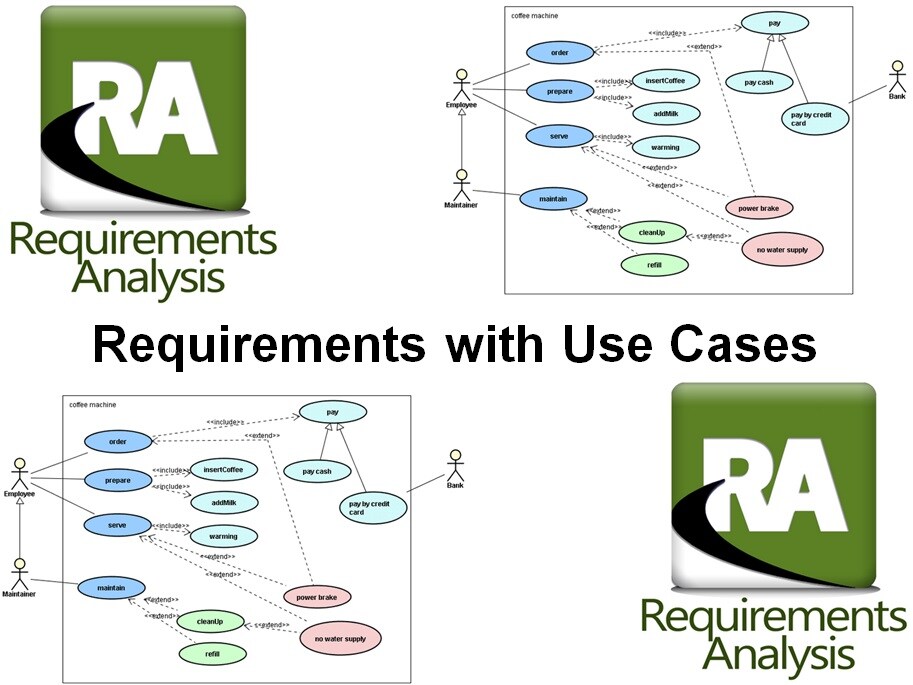 Deze cursus is bedoeld voor systeem analisten en developers die willen leren hoe Use Cases kunnen worden gebruikt voor het specificeren van de functionele requirements van systemen.
Voorkennis Cursus Requirements met Use Cases
Voor deze cursus is geen specifieke voorkennis vereist. Algemene kennis van systeem ontwikkeling is wenselijk voor een goede begripsvorming.
Uitvoering Training Requirements
De theorie wordt gepresenteerd aan de hand van presentatie slides. Korte case studies worden gebruikt om met de behandelde technieken te oefenen. Demo projecten verhelderen de behandelde concepten. De cursustijden zijn van 9.30 tot 16.30.
Certificering Cursus Requirements with Use Cases
De deelnemers krijgen na het goed doorlopen van de cursus een officieel certificaat Requirements with Use Cases.
Inhoud Requirements Cursus met Use Cases
In deze cursus staat Use Case modellering als een veelgebruikte analyse techniek voor het specificeren van de functionele eisen van een software systeem en het scheppen van een kader voor testcase ontwikkeling centraal. Na een introductie over requirements in het algemeen waarin de verschillende soorten requirements worden besproken, wordt ingegaan op het maken van Use Cases. Niet alleen de beschrijving van de Use Cases in een tekstueel document komt daarbij aan de orde, maar ook de visualisering van de Use Cases in een Use Case diagram. Er wordt besproken hoe Use Case diagrammen gebruikt kunnen worden in de communicatie met de stakeholders en om zicht te krijgen op de omvang, de complexiteit en de interactie met het systeem. Vervolgens wordt besproken hoe een Use Case aan de hand van een Use Case template nauwkeurig in een aantal stappen kan worden beschreven. Hierbij wordt de focus met name gelegd op het success scenario om vervolgens ook belangrijke afwijkende scenario's te specificeren. Eveneens komen meer geavanceerde technieken bij Use Case Modeling aan de orde zoals het gebruik van Activity Diagrams met guards, het vertakken van Use Cases en het gebruik van iteraties. Tenslotte er er ruimte voor de bespreking van de structuring van de Use Cases middels het hergebruik via includes, extends en generalisaties. De cursus wordt afgesloten met aandacht voor Use Cases in het kader van prototypes, de interfaces van het systeem en het test plan.
Module 1 : Requirements

Module 2 : Use Case Intro

Module 3 : Use Case Modeling

Understanding Requirements
Vision Documents
Requirement Analysis Activities
Requirement Types
Functional Requirements
Non-Functional Requirements
Requirements Determination
Requirements Classification
Requirements Specification
Conflicting Requirements
Requirements Risks
The glossary
Use Case approach
Identifying stakeholders
Use Case terminology
Use Cases
Actors
Identifying Actors
Primary Actor
Secondary Actors
Information
Define System scope
System Context Diagram
System Use Case Diagram
Brief Use Case Description
Use Case Modeling
Identifying Use Cases
Use Case Diagram
Use Case Modeling Steps
Drawing Use Cases
Describing Use Cases
High Level Use Cases
Expanded Use Case
Use Case Template
Prioritizing Uses Cases
Packaging Use Cases

Module 4 : Scenario's

Module 5 : Advanced Use Case Modeling

Module 6 : Interfaces and Tests

Main success scenario
Describing the steps
Best Practices use case descriptions
Other Scenarios
Different types of scenarios
Alternate scenarios and flows
Alternate flows and exceptions
Alternate scenario description
Activity Diagramming
Adding decisions
Guards and notes
Branching with If
Alternative Paths
Scenarios
Structuring Use Case Model
Generalizations
include and extends
Usability requirements
Prototyping
Prototype documentation
Interface requirements
Interface specifications
Screen functionality
Interfaces in iteration plan
Testing Use Case
Test plan