Code: TLG700
Duur in dagen: 2
Cursus Web Testing met Selenium
27-05 t/m 28-05-2019
17-06 t/m 18-06-2019
15-07 t/m 16-07-2019
12-08 t/m 13-08-2019
16-09 t/m 17-09-2019
Uw startdatum
Doelgroep Cursus Web Testing met Selenium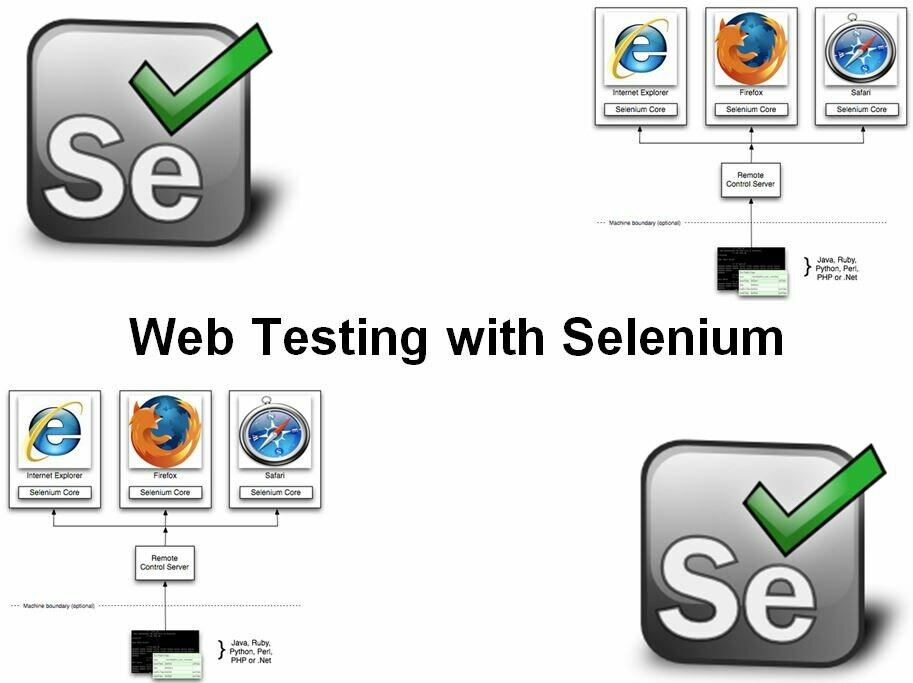 De cursus Web Testing met Selenium is bedoeld voor testers en developers die Selenium Webdriver willen leren voor het geautomatiseerd testen van Web Applicaties.
Voorkennis Selenium
Om aan deze cursus te kunnen deelnemen is ervaring met programmeren niet strict noodzakelijk. Kennis van programmeren is wel bevorderlijk voor de begripsvorming en kan worden opgedaan in onze cursus Java voor Testers.
Uitvoering Training Web Testing met Selenium
De theorie wordt besproken aan de hand van presentatie slides. Demo's worden gebruikt om de theorie te verduidelijken. Er is ruime gelegenheid tot oefenen. De cursustijden zijn van 9.30 tot 16.30.
Certificering Web Testing met Selenium
De deelnemers krijgen na het goed doorlopen van de cursus een officieel certificaat Web Testing met Selenium.
Inhoud Cursus Web Testing met Selenium
In de cursus Web Testing met Selenium leren de deelnemers werken met Selenium WebDriver en Selenium IDE waarmee web applicaties in verschillende browsers automatisch kunnen worden aangestuurd. Via scripts in programmeer talen als Java, C#, Python en Ruby kunnen de uitkomsten van bepaalde acties worden vergeleken met de verwachte uitkomsten en kunnen de resultaten worden gerapporteerd. De cursus begint met het opnemen van user interactie met de Selenium IDE. Dit wordt sinds de oorspronkelijke Selenium IDE in FireFox niet meer werkt gedaan met een Selenium IDE in Chrome of de Katalon recorder in Chrome. De opgenomen test worden vertaald naar een JUnit test script in Java of een andere programmeer taal dat de test vervolgens automatisch uitvoert. Aan de orde komen het localiseren van pagina elementen met id, name, link, CSS en XPath. De meest voorkomende WebDriver functies worden toegelicht en toegepast. Ook navigeren door en manipuleren van pagina elementen komt aan de orde. En eveneens worden Advanced Web Driver functies zoals het aanpassen van wait time, het Page Object Model, Selenium Grid en Cross Browser Testing besproken. Tot slot wordt ingegaan op de integratie van Selenium en het Cucumber Framework. Met Cucumber worden User Scenario's gedefinieerd die vertaald kunnen worden naar een JUnit Test met Selenium WebDriver.
Module 1 : Selenium Intro

Module 2 : Locating Elements

Module 3 : WebDriver Actions

What is Selenium?
Test Automation
Selenium WebDriver
Test Recorders
Chrome Selenium IDE
Katalon Recorder
Selenium IDE
Record Test Case
Running Scripts
Adding Checks
Verification Commands
Assertion Statements
General Selenese Commands
WaitFor Commands
Store and Echo Commands
IDE Limitations
Loading WebDriver
Web Elements
Finding Elements
Locator Types
Locating by ID and Name
Locating by Link Text
Locating by CSS Selector
Tag, ID and Class
Tag and Attribute
Inner Text
Locating by DOM
DOM getElementsByID
DOM getElementsByName
Dom Name and Index
Locating by XPath
XPath Syntax
WebDriver Functions
Actions on WebElements
Clicking Check Boxes
Clicking Radio Buttons
Getting Attributes
Sending Keys
State Testing
Clearing
Submitting
Select Items
Table Lookup
Get CCS
Get Location
Actions Class
Switching Windows
Waiting for Loading

Module 4 : JUnit Testing

Module 5 : Advanced Web Driver

Module 6 : Selenium and Cucumber

What is JUnit?
JUnit Integration
Assert Statements
Running JUnit Tests
JUnit Classes
System Under Test
Fixtures
Annotations
Test Suites
Suite in Suite
Suite TestRunner
Special Case
Parameterized Tests
Executing Parameterized Tests
WebDriverWait
Implicit vs Explicit Wait
ExpectedConditions
Dealing with Alerts
Synchronisation Strategies
Cookies
Page Object Model
Page Objects
private Methods
Page Factory
Loadable Components
Selenium Grid
Hub and Nodes
Cross Browser Testing
Test Driven Development
Behavior Driven Development
What is Cucumber?
User Stories
Scenarios
Feature Files
Gherkin Language
Given and When Keywords
Then and And Keywords
Background
Cucumber Options
Step Definitions
Selenium Cucumber Integration
Data Driven Testing