Code: JAV808
Duur in dagen: 5
Roostering: Op Aanvraag
Cursus Java EE Technologies
22-01 t/m 26-01-2018
Uw startdatum
Doelgroep Cursus Java EE Technologies en Architecture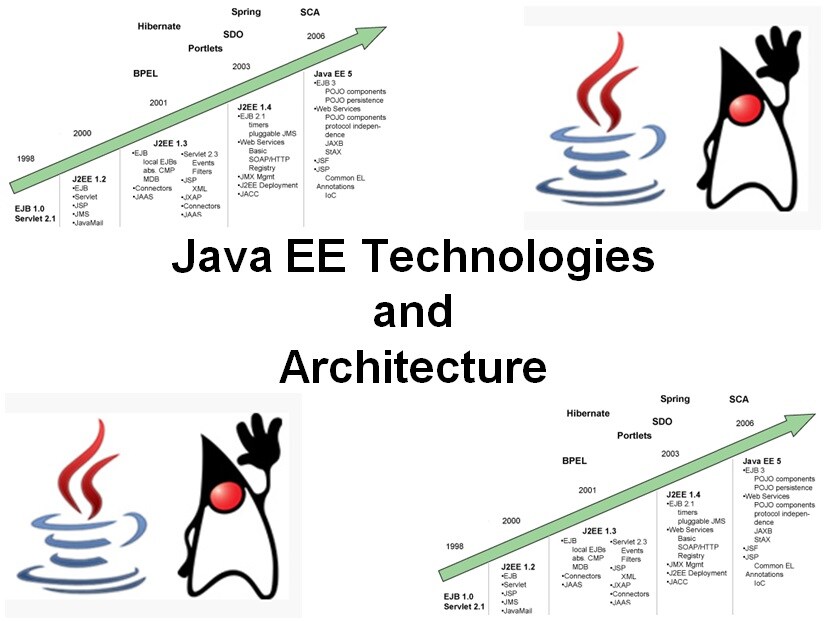 Systeem architecten en developers die de juiste keuzes willen maken bij het gebruik van Java technologie voor hun omgeving en applicatie beheerders die verschillende Java technologieën beter willen begrijpen.
Voorkennis Java Platform
Algemene basis kennis van software architectuur en kennis van het Java Platform is vereist om aan deze cursus te kunnen deelnemen.
Uitvoering Training Java EE Technologies en Architecture
Deze cursus heeft een praktisch karakter, maar is geen programmeer cursus. Het gaat om het begrip van de werking van de technologie. De theorie wordt afgewisseld met korte case studies. Er wordt gebruik gemaakt van moderne IDE's, zoals Eclipse en NetBeans en van de JBoss Application Server. De cursustijden zijn van 9.30 tot 16.30.
Officieel Certificaat
De deelnemers krijgen na het goed doorlopen van de cursus een officieel certificaat Java EE Technologies and Architecture.
Inhoud Cursus Java EE Technologies en Architecture
De cursus Java EE Technologies en Architecture is bedoeld voor systeem architecten die betrokken zijn bij de inzet van Java EE technologie. De deelnemers leren hoe ze de juiste keuzes kunnen maken tussen concurrerende opties. Java applicatie managers, project managers en Java developers komen vaak veel verschillende Java termen en afkortingen tegen en hebben moeite deze de juiste plek te geven. De cursus biedt een overzicht en vergelijking van verschillende moderne Java EE technologieën en brengt de kennis van de deelnemers op een hoger niveau. Na een overzicht van het Java EE platform, worden de belangrijkste componenten, Servlets en JSP's, behandeld en ook het JSF Framework als MVC layer over de basis van Servlets en JSP's wordt besproken. Ook het gebruik van Ajax in Java Web Applications en diverse frameworks, zoals DWR en GWT die Ajax gebruiken, passeren de revu. Eveneens worden verschillende Java connectivity technologieën en hun voor-en nadelen besproken, zoals de Java Connector Architecture, RMI en CORBA. Verder is er aandacht voor Rich Client Technologies zoals applets en Java Web Start, en het gebruik van scripting in Java en Java FX technologie. De andere belangrijke component van het Java EE platform, Enterprise Beans of EJB's, worden besproken en de mogelijkheden voor persistentie in Java (JDBC en Persistence API) worden behandeld. De module Java XML Technologies gaat vervolgens in op de mapping tussen Java en XML files en de Web Services module geeft een overzicht van de Java XML Web Service technologie. Tenslotte worden de Java Messaging Service (JMS) en Java EE Design Patterns besproken en komt security in het Java EE platform met policies, certificates, authentication, authorisation en JAAS aan de orde. Er zijn ook een aantal optionele modules over Spring, Struts, Hibernate en JMX. Deze worden desgevraagd in overleg met de deelnemers aan de orde gesteld. De cursus behandelt de stof die gevraagd wordt in de verschillende stappen van het Java EE Architect exam.
Module 1 : Java EE Architecture

Module 2 : Servlets and JSP's

Module 3 : Java Server Faces

Java Editions
Enterprise Challenges
Java EE Standard
Java EE Servers
Web Components
EJB Components
Persistent Entities
Standard Java Beans
Layered Architecture
Container Services
Java EE Web Services
Deployment Descriptors
Annotations
Packaging in EAR Files
Integration API's
What is a Servlet?
Possible Servlet Tasks
Servlet Initialization
HTTP Protocol
Form Submission
Concurrent Access
What is a JSP?
Translation and Request Time
Scopes in Web Applications
ServletContext Scope
Session and Request Scope
Web Application Structure
Servlet and JSP Problems
Classic MVC Pattern
Typical MVC Framework
JSF Background
JSF Feature Overview
JSF Framework
Request Processing Phases
Server Side UI Components
JSF Implementation
JSF Component Libraries
Deployment Descriptor
Faces Configuration File
Facelets Page Structure
Managed Beans
Expression Language
Facelet Default Navigation
Event Handling
Validators and Convertors

Module 4 : Ajax Fundamentals

Module 5 : Ajax Frameworks

Module 6 : Connectivity Technologies

What is Ajax?
Classic Web Application Model
Ajax Web Application Model
Ajax Usage in the Real World
Typical Ajax Interactions
Drawbacks of Ajax
How Ajax works
Creating XMLHttpRequest
XMLHttpRequest Methods
XMLHttpRequest Object Properties
Sending the Request
XMLHttpRequest readyState
Dynamic HTML and HTML DOM
Read responseText
Direct Web Remoting
DWR Parts
DWR Architecture
DWR Configuration
DWR Creators and Converters
JSON Data Transport
What is Google Web Toolkit?
Java to Javascript compiler
GWT Development Mode
GWT Production Mode
GWT Architecture
GWT UI class library
Deferred Binding
GWT RPC Mechanism
Java EE Connector Architecture
Resource Adapters
CCI Classes
Common Client Interface
What is RMI?
RMI Architecture
Remote Interface
Dynamic Proxies
Exporting Objects
Marshalling and Serialization
RMI Registry
Parameter Passing
What is CORBA?
CORBA Architecture
CORBA IDL

Module 7 : Rich Client Technologies

Module 8 : Java Scripting

Module 9 : Enterprise Java

What are Applets?
Applet Parameters
Applet Lifecycle
Java Plug-In
Security Restrictions
Connecting to Host
Java Web Start
Java Web Start Operation
Using Java Web Start
Launch from Cache Viewer
Java Network Launching Protocol
JNLP File structure
Development and Deployment
Launch Sequence
Security Restrictions
Scripting Languages
Scripting in Java 6
Why combine Scripting and Java?
Scripting Scenarios
Scripting Framework
Scripting API
Bindings interface
Scripting Variables
What is Java FX?
JavaFX 2.0 Architecture
Java FX Scene Graph
Data Binding in Java FX
Integrating Multimedia
EJB Features
Distributed Objects
Session Beans
Statefull and Stateless
Architecture of an EJB
EJB Object at Work
Client Access
Remote versus Local Clients
Web Service Clients
EJB 3.x Programming Model
Life Cycle Session Beans
Session Bean Pools
Activation and Passivation
Message Driven beans
Life Cycle MDB Beans

Module 10 : Persistence Technologies

Module 11 : Java XML Technologies

Module 12 : Web Service Technologies

Java Persistence
Direct File I/O
Serialization
JDBC Overall Architecture
JDBC Drivers and URL's
Object Relational Mapping
Persistence API in EJB 3.x
Entity Classes
Entity Manager
Persistence Context
Persistence Unit
Entity Lifecycle
Removing Objects
Merging Objects
Managing Identity
XML Processing Options
Building a DOM Tree
SAX Callbacks
What is JAXB?
JAXB versus DOM and SAX
JAXB Architecture
JAXB Binding Life Cycle
JAXB API
Streaming API for XML
Pull versus Push Parsing
Advantages of Pull Parsing
Why StaX?
Iterator API
Cursor API
Parsing API Comparison
What is a Web Service?
Role of the interface
Web Service Stack
RPC versus Document Style
XML-Schema, SOAP and WSDL
What is JAX-WS?
Service Side Programming Model
Client Side Programming Model
What is REST?
RESTFull Web Services
ID and Links
Multiple Representations
Stateless Communications
Simple Root Resource
Container Item Pattern
Map, Key, Value Pattern

Module 13 : Java Messaging Service

Module 14 : Java EE Design Patterns

Module 15 : Java Security

What is JMS?
Messaging Characteristics
JMS API
Messaging Models
Publish and Subscribe
Point tot Point
JMS Architectural Components
JMS Message Interface
Message Header Fields
Message Types
Creating and Receiving Messages
Message Driven Beans
MessageListeners
onMessage method
Intercepting Filter
Servlet Filters
Front Controller
Application Controller
View Helper
Composite View
Session FaÇade
Data Access Object
Service to Worker
Business Delegate
Delegate Adapter and Proxy
Service Locator
Transfer Object
Value List Handler
Java Security
JDK 1.1 Security Model
Java 2 Security Architecture
Basic Security Elements
Major Security Concerns
Authentication
Authorization
JAAS
Declarative security
Programmatic security
Form Based Authentication
Basic and Digest Authentication
Secure Sockets Layer
Asymmetric Encryption
Symmetric Encryption
Hash Encryption
Digital Certificates

Optional Module : JMX

Optional Module : Spring

Optional Module : Hibernate