Code: INT600
Duration in days: 2
Scheduling: On Request
Course Rich User Interfaces using Flex
Audience Rich User Interfaces using Flex Course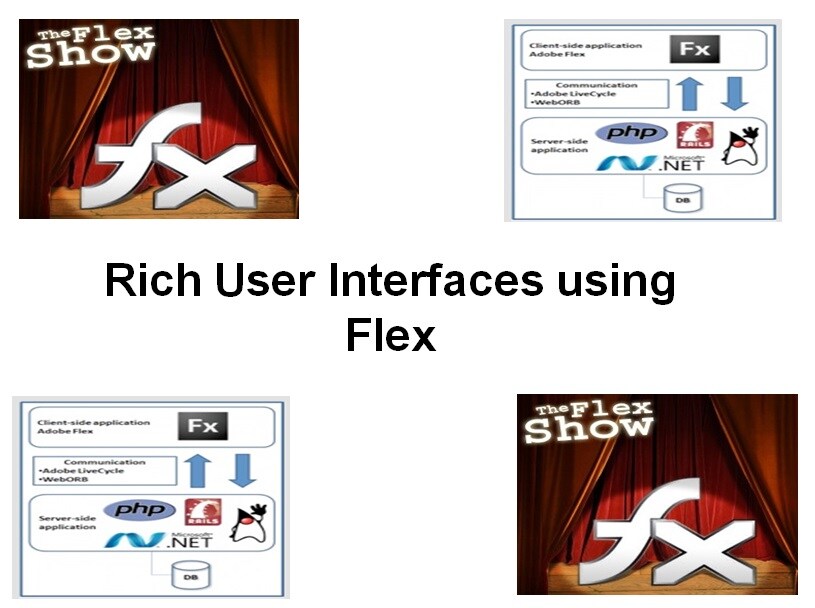 This course is designed for experienced Web developers who want to use Adobe Flex for developing Rich User Interfaces in Web Applications.
Prerequisites Course Rich User Interfaces using Flex
Knowledge and experience in developing Web Applications and a scripting language like Javascript is required to join this course. This training will not focus on creating Flash applications, but on the Flex environment and Flex UI.
Realization Training Rich User Interfaces using Flex
The course is a hands-on course. The theory is treated on the basis of presentation slides and demos and is interspersed with practical exercises. The Eclipse-based development environment Flash Builder is used. The course times are from 9.30 up and to 16.30.
Certification Rich User Interfaces
Participants receive an official certificate Rich User Interfaces using Flex after successful completion of the course.
Contents Course Rich User Interfaces using Flex
This course teaches you how to use the Flash Builder development environment for rapid development of Rich Internet Applications (RIA) using Flex Framework components. You will learn how to design interactive forms where CSS stylesheets and themes are applied and where the components are given skins. You will learn to make use of the markup language MXML. Also discussed is enhancing the interactivity of the applications by using ActionScript 3.0. The data types and the object model of the ActionScript 3.0 language are covered and there is ample attention to the handling of events for the flow of the application and the validation of data. Also the subject data binding where the contents of the Flex components is linked to internal or external sources such as a Web server is addressed. Herewith the Flex Data Services such as the HTTP Service are discussed. Finally attention is paid to how robust and scalable Flex RIA applications can be written based on the MVC (Model View Controller) pattern.
Module 1 : Flex Overview

Module 2 : Flex Basics

Module 3 : Layout and Styles

Traditional Webapps Problems
Rich Internet Applications
RIA Benefits
What is Flex?
Flex Framework
Flex Class Library
Flex Architecture
How Flex works
Flex Product Line
Flex Compiler
FlashBuilder
ActionScript 3
Flash Player
MXML
Minimal Flex Application
Flex Containers
Wine Cellar Demo
UI Wine Cellar Demo
Flex Components
Custom Components
Binding between Components
Application Structure
Component Properties
Component Methods
Definition of Layout
Layout Phases
Invalidation triggers
measure function
updateDisplayList function
Different kinds of size
Size related properties
Size related methods
Styles
Styles for sub components
Skins

Module 4 : ActionScript 3.0

Module 5 : MXML

Module 6 : Event Handling

What is ActionScript?
Where is ActionScript used
Design Goals
Flash 9 Features
ActionScript Basics
ActionScript variables
ActionScript data types
Functions
Classes and Objects
Packages and Classes
Visibility Modifiers
Accessing Properties
Event Model
Displaylist
XML handling
What is MXML?
ActionScript classes to MXML tags
MXML Language
MXML to ActionScript
MXML Visual Tags
MXML Miscellaneous tags
MXML Data Binding
Flex Event Model
Listeners
Event Listeners Examples
Handling Button Clicks
Inline ActionScript
Best Practice Handling Events
ActionScript functions
Adding listeners
The event object
Types of Events
Event bubbling
Stopping the bubble

Module 7 : Data Services

Flex Data Services
XML Data Access
Connect to data using HTTP Service
Setup HTTPService
Using lastResult property
Handle Result using Event Object
event handler in script
Debugging
Handling faults
Fault Class
Alert Class
Cross Domain Access